MacElree Portal Home | The "Classic" | The "Bold One" | The "Storyteller"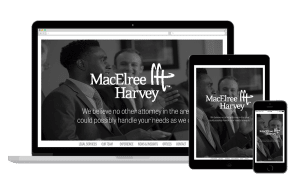 This version is a minimalist layout that tells a visitor a specific story. Utilizing a mostly black and white scheme imparts a sense of legitimacy and validity to a user, while the strategic pops of bright blue invite the user to keep scrolling or to take action.
The goal of this version is to entice the user with a bold visual immediately upon arrival to the website and compel them to scroll down where they will receive chunks of information, ultimately resulting in the user taking action to pursue the next steps with MacElree Harvey.
Interior pages of the website will continue the black and white feel while utilizing a more traditional "logo on left, navigation on right" treatment to the headers of each page so that the bulk of the viewable space can be used for content. The bright blue color will be used throughout to draw attention and focus where needed.
Other features:
The "Start Here" button will bring users to a new "Contact Landing Page" featuring a robust contact form and key information about the firm
The "Learn More" button will go to a new "History Landing Page" that will tell the story of MacElree Harvey from 1880 to today
The "Contact Us" button can either to the new "Contact Landing Page" or a more simple contact form
Below is a full-length image of the homepage, including all of the parts you would normally only see by scrolling down, as well as an "above the fold" image that shows the part you would see on most computers before you had to scroll.
Click on either image for a larger view or to download.
Please add any comments or feedback through the form below.
Website Design Review
Please use this form for any comments or feedback about this design.